Misha dress up Dimore Studio for Milan Design Week 2015
For occasion Milan Design Week 2015 Misha together with Dimore Studio create a language inspired by a set of emotional alchemies made of unexpected choices, inventions, light and oxidation special project for La Maison Pierre Frey. Creating a wide exhibition that reminds ancient Japanese screens, where refined handpainted crowned cranes, an icon of good fortune and goodness fluctuate on gold background cracklé of Metallic collection.
DESIGN
An uncensored aesthetic where each item has its own power and expressive 'raison d'être' while representing a part of the ensemble as the protagonist. Misha is a unique piece depicted on metallic wallpaper covering the venue that brings a sophisticated atmosphere where the perspective offers wide spaces and the colours create a retrò dèco or contemporary mood both in plain and hand-painted versions with Cranes patterns drawn from Asia collections.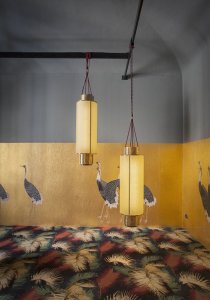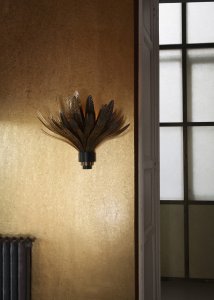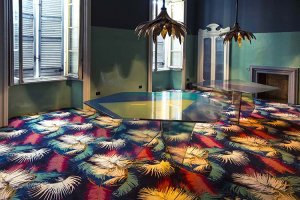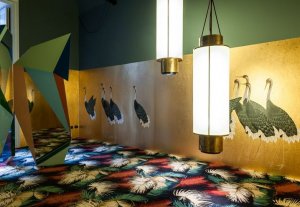 PALMADOR
Together with this exhibition, Dimore Studio presents the 'Palmador' collection: The stylistic codes of the new collection are presented through evolved visual paradigms, volumes and unusual colours, and translated into six special pieces: Totem screen, Book looking glass, Sheet desk, Big One lacquered wood table, Penta and Esa glass tables. 'Tessuti' is a collection of sixteen textile designs from geometric to organic, from linen to silk.