NUOVA POMPEI

by Vito Nesta
After a trip along the Silk Road with previous collections dedicated to an oriental aesthetic and Chinoiserie decorations, with the new collection Nuova Pompei by Vito Nesta, Misha is metaphorically coming home, to Italy, to the city of Pompei.
A passion for the exotic that has always inspired Misha's creations looks beyond the ordinary. With the new collection, the brand flips the tendency to consider unusual what is far removed from our own culture, imagining Italy itself as exotic when viewed through the eyes of a foreigner. Pompeii comes back to life, with its frescoes and its iconic, captivating painted decorations.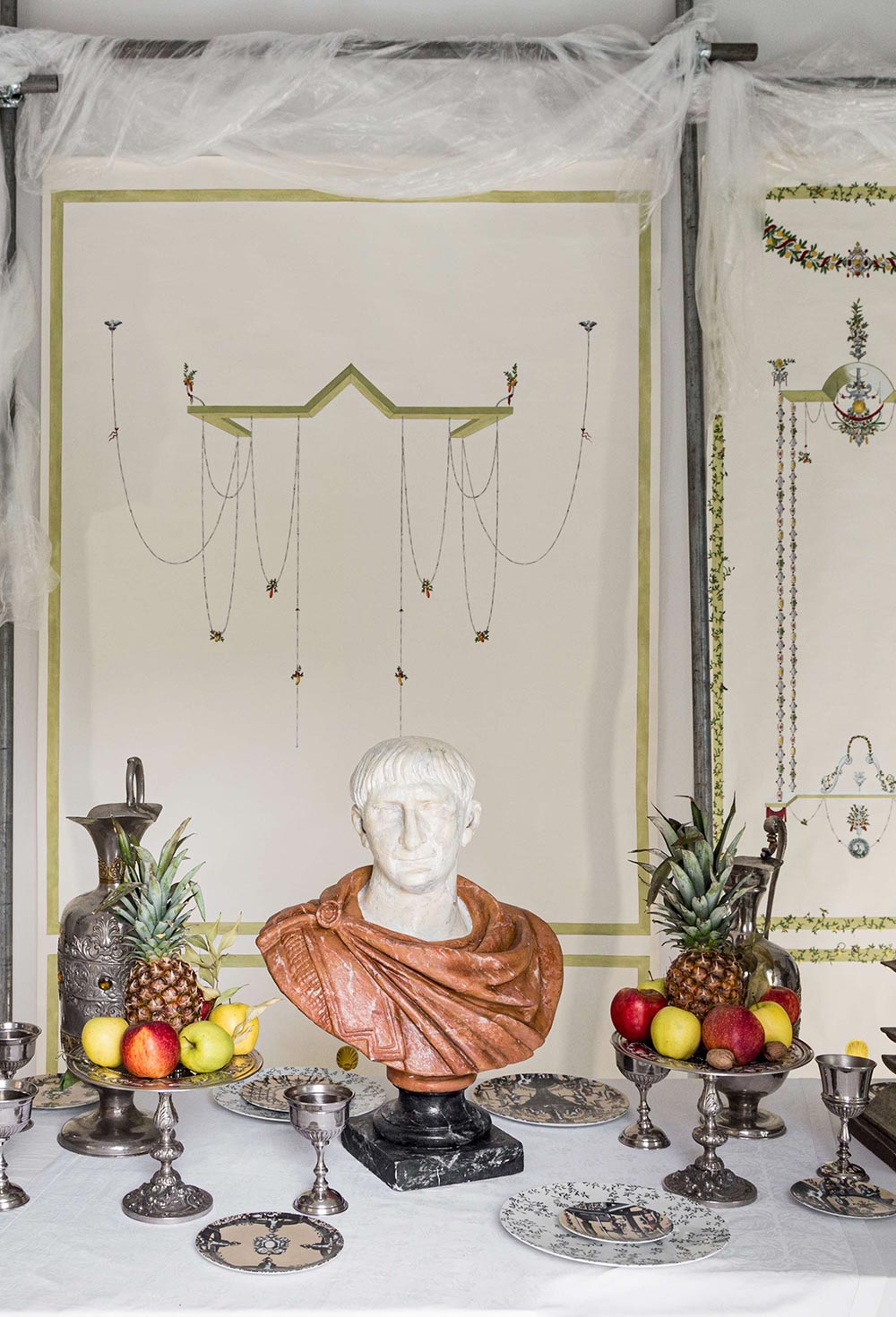 ARCHITETTURE GROTTESCHE
The "Architteture Grottesche" design reinterprets the wall decorations of the Grotesques of ancient Pompeii. The paper is composed of micro Architectures, at times metaphysical, made from nineteenth century drawings of jewels rich in chiselling and minute details, whose central gems give small accents of colour to the monochromatic background. Very light, almost ethereal, the Architecture is interspersed with squares of colour in which miniatures of colourful birds. This new reading has made it possible to write a new page without overlapping the history of Pompeii, modern and dynamic, weaving the history of those places but with an eye to the future
PARADISO
It was common in old Pompeii to fall asleep surrounded by lush fruit trees and fluttering birds. The best to express this constant is probably the House of the Orchard, an excellent example of "garden painting," with cubicles decorated with arbutus trees and ornamental details on the nocturnal rooms' walls. The paper "Paradiso" captures the nature of the Bel Paese with branches of citrus and pomegranates unfolding on the walls, allowing glimpses in the distance of scenes of daily life amid Roman ruins and Mediterranean landscapes. In the middle, birds take centre stage in a truly panoramic view of a dreamy Pompeii.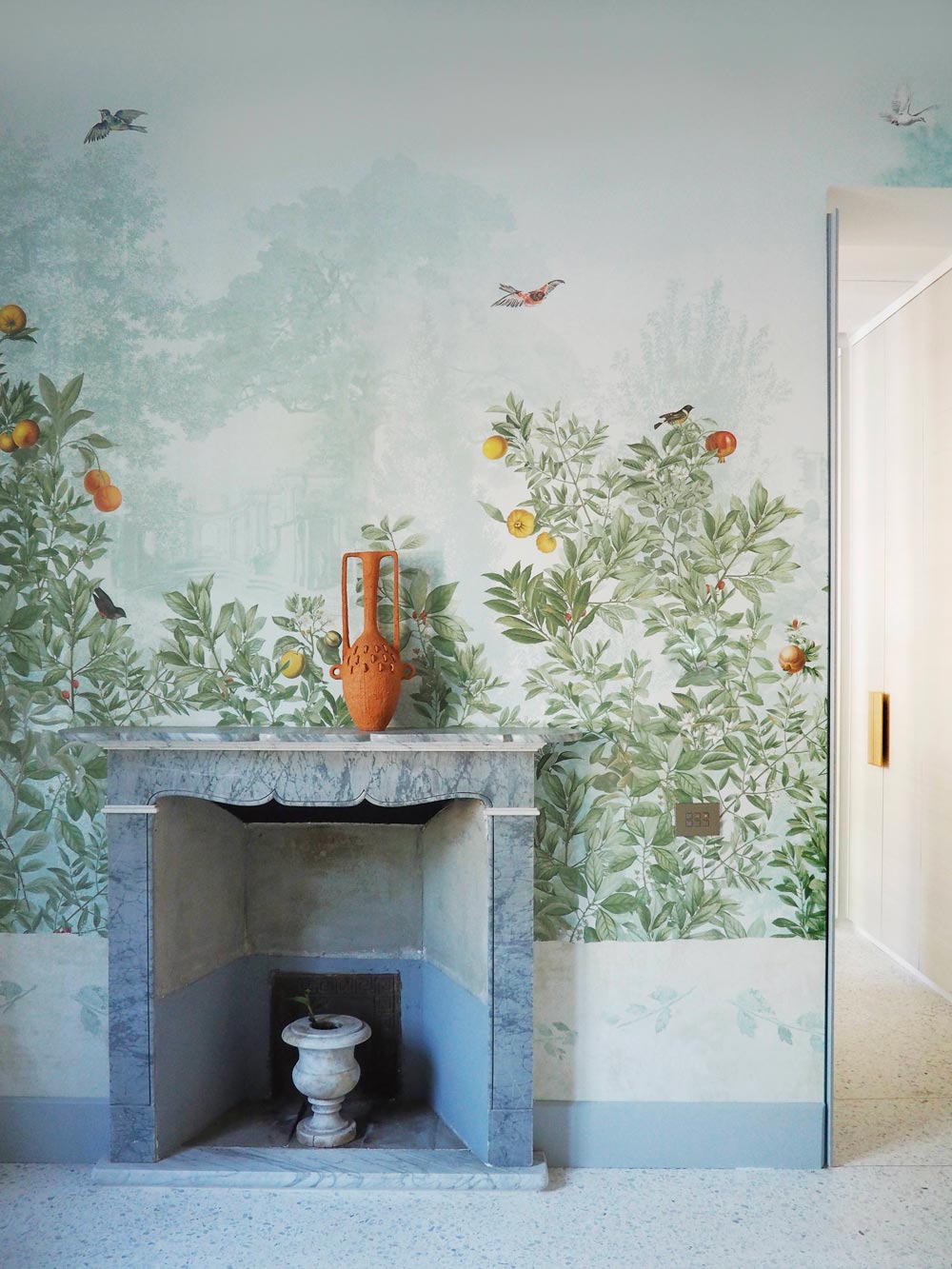 MOSAICO
The paper renews the floor decorations made of mosaic from Ancient Pompeii, examples of the ancient Greek technique of "carpet". The Mosaic paper is conceived with a modular pattern, designed to give complete freedom to the imagination of the end user, who can decide how to compose the wall, thus giving the possibility of being able to independently make his own little Pompeii. The possibility of Misha's handmade product makes each mosaic unique and unrepeatable.
SANNITA
Sannita is a wallpaper that pays homage to the early Pompeian style; this pictorial technique, widespread in public buildings and homes, Sannita; recalls Marble wall coverings. The ancient pattern, characterised by rectangles and squares, marbles and solid colours, is thus reinterpreted by Vito Nesta to create a dynamic and contemporary decoration. Sannita's design plays on solids and voids, alternating solid coloured parts with elements of strong decorative impact.