ESOTISMI

By Cristina Celestino
Esotismi by Cristina Celestino is Misha's first Signature collection of design wallcoverings. This collaboration with the designer is primarily rooted in reflections regarding the brand identity, its philosophy and values, as well as the unique potential it offers in terms of craft production. With its textile wall decorations, the collection provides a most successful and original medium for contemporary design.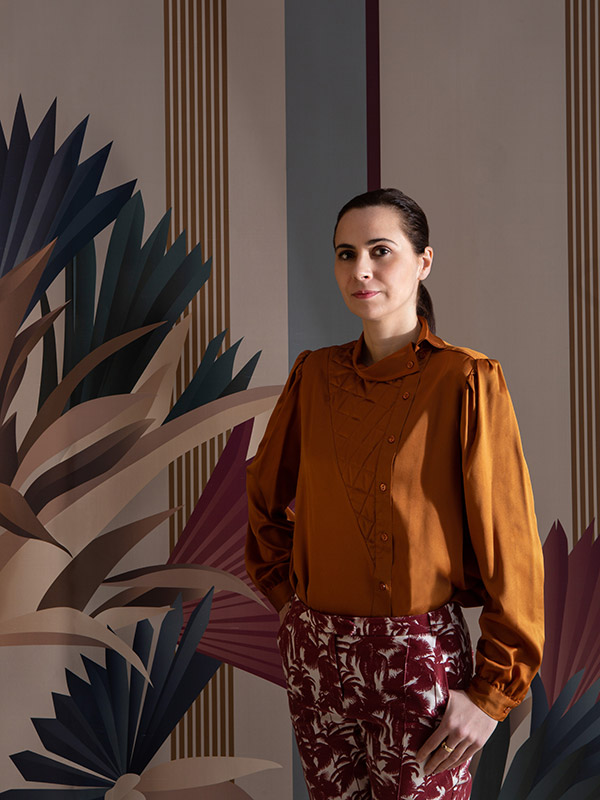 Cristina Celestino
Cristina Celestino was born in 1980 in Pordenone. In 2005, after graduating from the School of Architecture at IUAV University of Venice, she worked with prestigious design studios, focusing on interior architecture and design. In 2010 she moved to Milan, founding her own furniture brand Attico Design.
As a designer and architect, Cristina Celestino creates exclusive projects for private clients and companies.
Her work also extends to creative direction for companies, and the design of interiors and displays.
Cristina has received many international prizes and honours.
FORMOSA
Formosa is a term often used in connection with certain mushroom varieties. This design experience takes its cue from the world of photography: a colourful limbo provides the backdrop to a hypothetical stage set imbued with a surreal dreamlike atmosphere. The limbo is interpreted by a solid colour background simulating the effect of marmorino stucco walls. Monochromatic ferns and exotic plants flank the limbo and frame the enormous mushrooms positioned in the foreground, which are characterized by bright, somewhat unnatural colours and endowed with three-dimensionality thanks to the embroidery work. Ardoise and Saffron are the two colour variants that refer to the dominant shades of the two different backgrounds.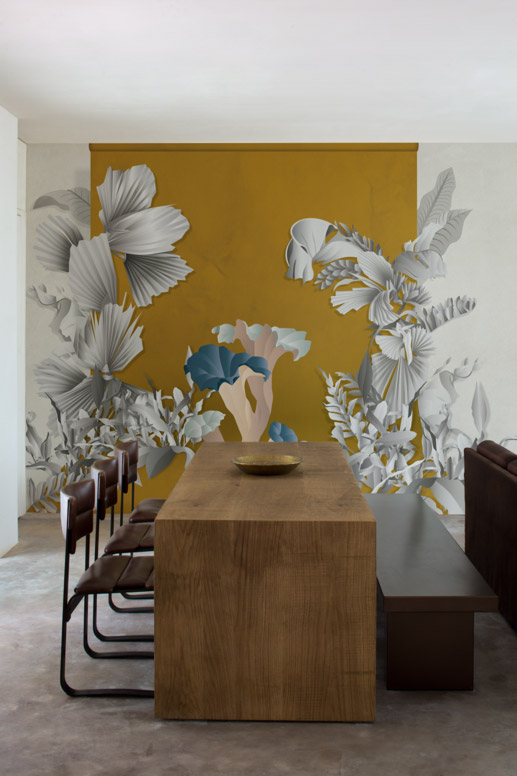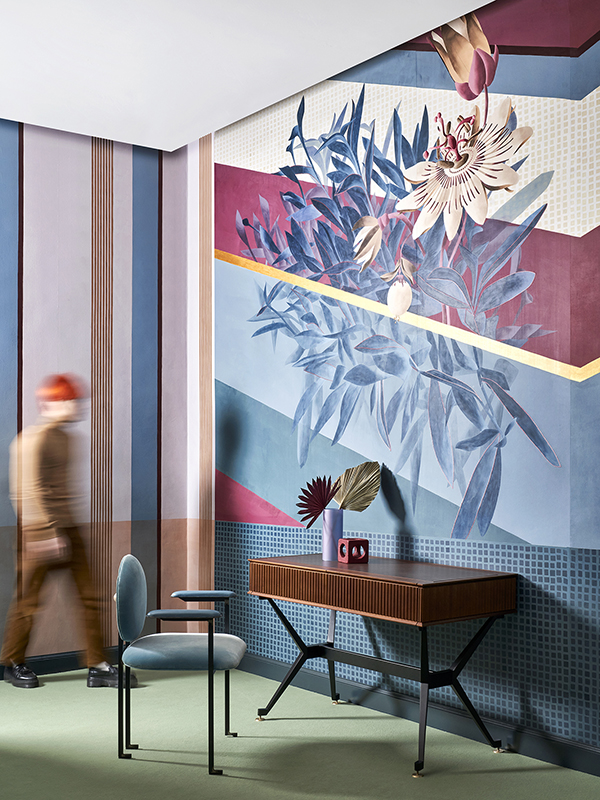 PASSIFLORA
This wallpaper puts the spotlight on an exotic plant of great impact – passiflora – confined by a regimental diagonal pattern of monochromatic geometric stripes and micro patterns inspired by textured weaves. The striped background plays with transparent and opaque effects and interacts assertively with the vegetation. The wallpaper is further enhanced and characterized by hand-embroidered details which confer a pronounced three-dimensionality to the flower. The Passiflora design is presented in two colour variants, Citrina and Caerulea, which refer to the different colours of the flowers.
KENZIA
The protagonist of Kenzia is a natural and luxuriant wilderness. This wallpaper sets out to be an authentic praise of "vagabonds" (to quote Gilles Clement): wild plants constantly on the move. A colourful "out of scale" fan-shaped flora plays peek-a-boo in between the geometric stripes of an accurately drawn background. The overall effect is that of an on-going dialogue between order and disorder. The wallpaper is presented in two colour variants. Golden Sky and Golden Beach.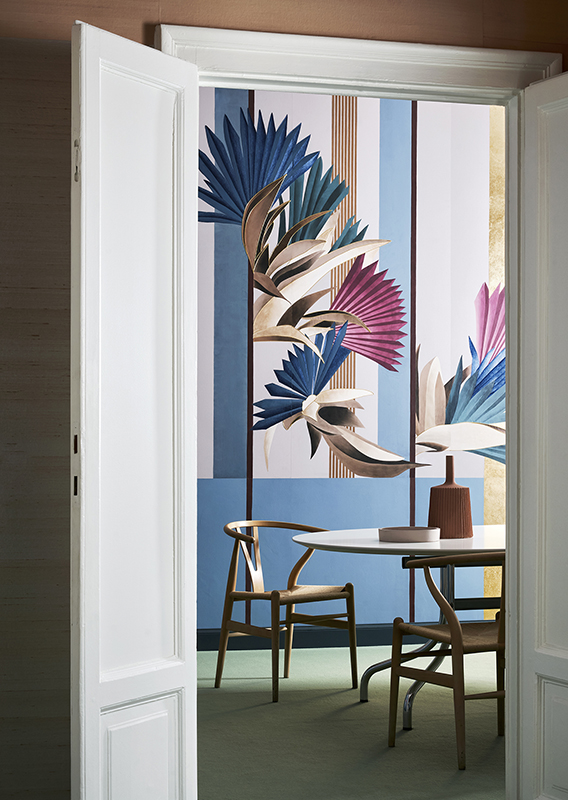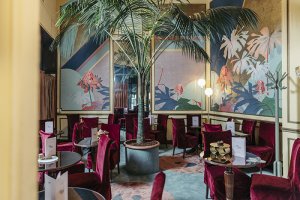 OASI
On the Oasi wall covering, an abstract landscape provides the backdrop for mirages in which the most amazing fruits, giant raspberries and tropical leaves stand out against soft dunes and contrasting geometric stripes. Precious embroidery adorns the fruit and accentuates the contours of tropical leaves with outline embroidery work. The wallpaper is presented in two colour variants: Mint+ Bluette and Peach+ Sunset. The boiserie proposal comprises 2 colours from the Natural Texture collection by Misha.