The new concept of bathroom
Combining functionality and emotions to transform the bathroom into an environment with its architecture that is sophisticated and accessible at the same time: these are the features on which the Kartell by Laufen project, the historic Swiss brand, was developed, part of the Roca group and partner Habimat. The bathroom by Kartell by Laufen is configured as an interconnected space where sinks, sanitary fixtures, taps, containers, shower trays, bathtubs, lights, wallpaper and accessories coexist in maximum flexibility.
Concept
A collection of furnishings for the bathroom that adapts to different tastes and styles thanks to the elements that compose it: from the vitreous transparencies of the latest generation of polycarbonate to the dry edges of the totemic washbasin ideal for those who love minimal, lunar, rarefied environments. In this collaboration with Misha wallcoverings Kartell by Laufen harmonize the collection with an Asian touch of magnolia tree silk wallcoverings to set up the contemporary design interior.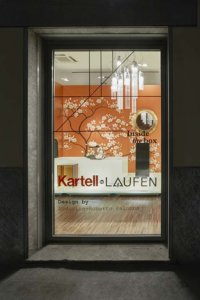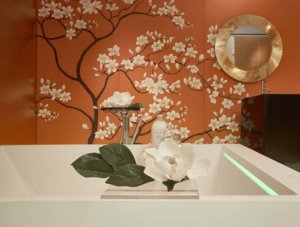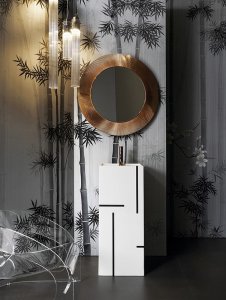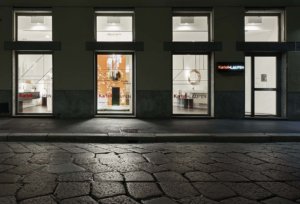 Experimentation
The bathroom imagined by Ludovica and Roberto Palomba, the two creative directors of the Kartell by Laufen project, is a space dedicated to experimentation in which the focus is not only on the aesthetic dimension but also on the more technological aspects and respect for the environment thanks to the use of Saphir Keramik material which set up the same ambience with Asian theme silk wallcoverings from Misha.