Misha for Dimore Studio
Emiliano Salci and Britt Moran – the duo behind  Dimore Studio – celebrated the 10th year of their participation to the Milan Design Week presenting the collections "Palmador" and "Tessuti" with a new the fascinating setting of the Milanese apartment transformed into the Dimore Gallery, in Brera district.
Experience
Emiliano and Britt invested in their individual experience with the profession and study of Design, Art and Fashion, and founded Dimore Studio in 2003. Since that moment, they have designed and carried out every project in a personal and recognizable way: objects created by historical design masters live together with reclaimed materials and other "bespoke" objects to create and forge a particular atmosphere. A timeless visual and emotional pathway.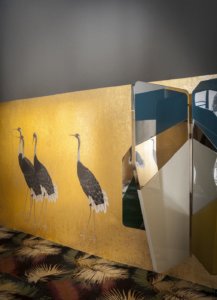 Concept
For occasion Milan Design Week 2015 Misha together with Dimore Studio create a language inspired by a set of emotional alchemies made of unexpected choices, preservation, inventions, appreciation of prints, lights, lacquers and oxidations. An uncensored aesthetic where each item has its own power and expressive "raison d'être" while representing a part of the ensemble as the protagonist.
In the "Palmador" collection: Metallic Misha 'Cranes' wallcoverings, mirror book, screen totem, desk sheet, a lacquered wood table big one and coloured glass tables Esa and Penta. "Tessuti" is a collection of sixteen textile designs from geometric to organic, from linen to silk.