Pasticceria Cucchi becomes a 30′ Caffè Concerto for Milan Design Week 2019
On the occasion of Milan Design Week 2019, Cristina Celestino re-invent the interior design and uniform of historical pastry shop 'Pasticceria Cucchi' at Corso Genova with a setting that brings to life the dancing evenings of Caffè Concerto in the 30′ with our OASI silk wallcoverings
Pasticceria Cucchi
It is not easy to redesign an iconic place in the city. Cristina Celestino, designer and architect, does it successfully during Milan Design Week 2019, Cristina chooses Paticceria Cucchi as the venue of the event which is one of the most famous historical places in the city, who loved by the Milanese. The project involves the interiors, windows, outdoor area and every small details activity in the pastry shop: from the uniforms of the staff to the design of some desserts, until packaging.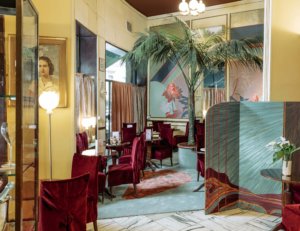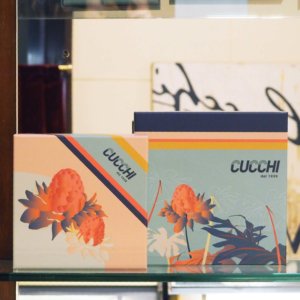 Wallcoverings Design
The original design of the wallcoverings come directly from the vision of Cristina Celestino interpret the past and present, with an eye on the future. Cristina has imagined Caffé Concerto Cucchi as an urban oasis inspired by the hues and techniques of the art of pastry, projecting the atmosphere of the traditional into vibrant space marked by unexpected insertions of colours and materials.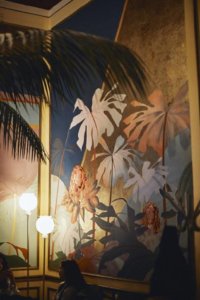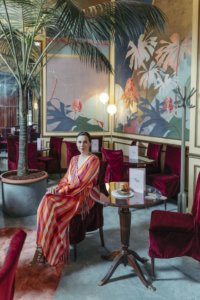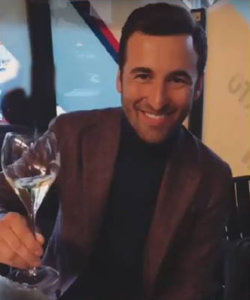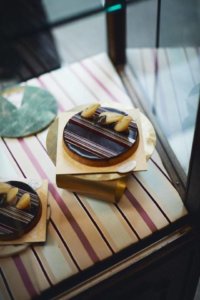 OASI
The project, named "Oasi" by Cristina Celestino and Misha, presents a surreal hand-painted landscape standing out on a precious silk wallcovering and subdivided in three large panels. A combination of geometric figures and botanical elements such as illustrations of oversized raspberries and an impressive tropical palm tree, enhanced by embroidery- is matched with chromatic bands and metallic mini-patterns able to generate a hybrid panorama: an oasi that influence the aristocratic atmosphere of the pastry shop creating an unexpected scenario.